Jesse Ruiz will fight opioid manufacturers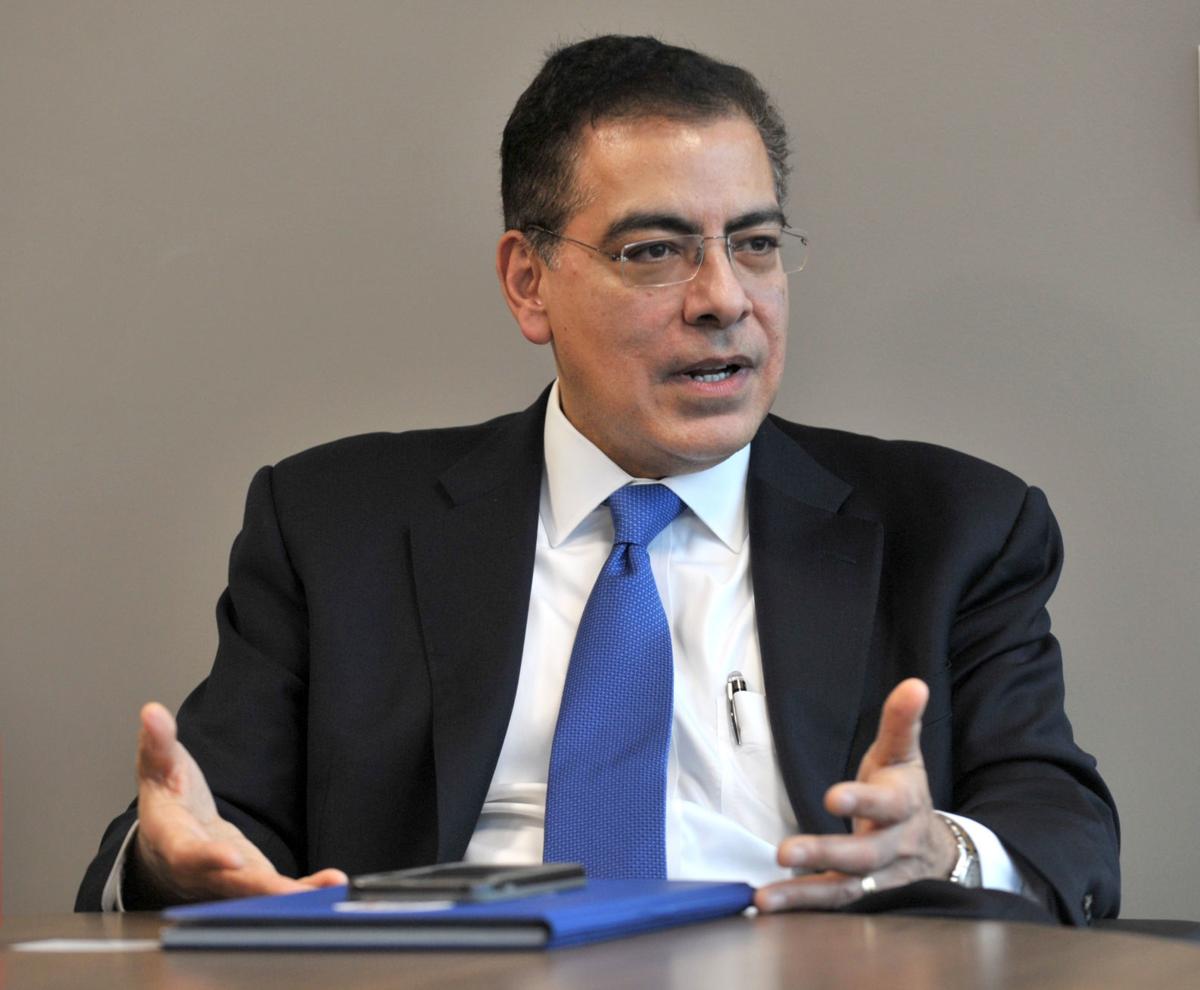 EAST MOLINE — Jesse Ruiz said his record of professional and public service makes him the best candidate for Illinois Attorney General in the March 20 Democratic primary election.
In a meeting with the Dispatch-Argus editorial board Friday, Mr. Ruiz said, if elected, his priorities will be to fight corruption, enforce the Freedom of Information Act, enact criminal justice reform, combat the opioid crisis, and provide better law enforcement training.
"We have to treat law enforcement professionals throughout the state like the professionals they are," Mr. Ruiz said. "Respect is great, but give them the support and training they need. It's something we should provide at the state level to make sure police officers get the required training and ongoing professional development. We do it for teachers."
To combat the opioid crisis, Mr. Ruiz said he would go after drug manufacturers by joining forces with other attorneys general.
"It's going to be akin to going after the tobacco companies," he said. "The drug manufacturers are producing these (opioids) and we have to make sure they cannot reap profits and not be held accountable to communities they're doing incredible harm to."
Mr. Ruiz supports the legalization of marijuana, but said certain regulations should be put in place such as age restrictions, monitoring of THC levels, and proper licensing of businesses that sell it. Tax revenue from legalization also would benefit Illinois, he said.
"We still have a massive budget crisis in this state. Marijuana has helped the state coffers in Colorado."
Mr. Ruiz, 53, is a practicing attorney and partner at Drinker Biddle & Reath LLP in Chicago. He graduated with his bachelor's degree in economics from the University of Illinois and his law degree from the University of Chicago. While in law school, two of his professors were Elena Kagan and a young Barack Obama.
In 2004, he was appointed chairman of the State Board of Education for seven years. Chicago Mayor Rahm Emanuel then asked him to be vice president of the Chicago Board of Education. In 2015, he served three months as interim CEO of Chicago Public Schools after then-CEO Barbara Byrd-Bennett was indicted for corruption.
Growing up on the south side of Chicago as the son of Mexican immigrants, he has worked to honor the sacrifices his parents made for him and his three sisters.
"I've been blessed. I've had a chance to pursue the American dream," Mr. Ruiz said. "The best way I can honor my parents' sacrifices and pay it forward is to work hard and make sure everybody else has the same opportunities I've had.
"I want to use the power of the attorney general's office to do that; to make sure we level the playing field for working families who are struggling. My father gave us the best inheritance possible: Good values, a good foundation of education, and faith."
With Donald Trump as president, he said civil rights are under attack and discrimination is on the rise.
"We have a president who began his political career by saying when Mexico sends its people, it's not sending its best; they're bringing drugs, they're bringing crime, they are rapists," Mr. Ruiz said. "Knowing the sacrifices my parents made and how they eventually became American citizens, I thought it was a huge insult to people like them. Because of their sacrifices, I got to learn the law from a future Supreme Court Justice and future president of the United States. I should use those skills to stand up for their rights and the rights of everybody else."
If elected, he said the first thing he will do is seek statewide grand jury authority to ensure transparency in government and enforce the Freedom of Information Act.
"If you don't use your office as the chief legal officer of the state, you're missing an opportunity to set the tone of what you think is right. Everybody should be subject to scrutiny."
In a projected turnout of 1.2 million voters, Mr. Ruiz said he needs about 28 percent, or 364,000 votes to win the nomination.
"I've demonstrated that I'm willing to do the right thing consistently," he said. "I didn't need to be appointed or elected to anything to see problems in our state and start doing something about it. But with the office of attorney general, I can do more."
Mr. Ruiz is one of eight people running in the March 20 Democratic primary race for attorney general. Other candidates are former Gov. Pat Quinn, of Chicago; state Rep. Scott Drury, Chicago; state Sen. Kwame Raoul, Chicago; Sharon Fairley, a former federal prosecutor in Chicago; Renato Mariotti, co-chair of Lawyers4Choice in Chicago; Nancy Rotering, mayor of Highland Park; and 33rd Ward Committeeman Aaron Goldstein, Chicago.
For more information on Mr. Ruiz's campaign, visit www.Jesse4IL.com.
This article was originally posted on cqonline.com. To read the original post, click here.